Southesk weekly news : written on board the Southesk on her voyage from London to Port Lyttelton. Sailed Sept. 26, 1879; arrived Dec. 28, 1879.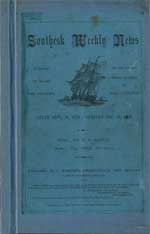 Weekly ship newspaper reporting on social activities, weather, progress of the voyage, accidents, and various other events on board the vessel.
View Southesk weekly news [8.6 Mb]
Publisher: Christchurch : J. Marriner, [1880].