Sali Mahomet 1866 - 1943
From a cart outside the Bank of New Zealand in the south-east corner of Cathedral Square, Sali Mahomet, or "Ice-cream Charlie", sold his product to passing foot and cycle traffic. When he operated, in the first half of the 20th century, "central Christchurch had many one-person businesses", the owners of which became local characters with no equivalent in a later "chrome and plastic world". What distinguished Sali was the fact that, in an overwhelmingly European and Christian city, he was a dark-skinned Moslem from Asia.
Little is known about the origins of Sali or "Saleh" (pronounced "Sah-ley" and meaning "pious"). Family tradition states that he was born Mohammed Khan, about 1866. Tales persist of a childhood residence in a Russian city, Ashkhabad, of the clan being harassed by Cossacks, and of the female members dying of exposure. On his marriage certificate, Sali gave his birthplace as Ceylon and, elsewhere, he said that he was a Punjabi. He may have decided that, when living in a country which was proud to be part of the British Empire, it was best to claim that one had been born within the bounds of that empire. Sali's mother may have had the forename Addul or Adil. His father, Sultan, was a hawker and the son of a hawker, Razzak or Razzaq. This name, meaning "Provider", can refer to God but is also popular as a forename and surname.
On leaving Asia, Sali and his father travelled through Australia, arriving in New Zealand about 1894. Here "Saleh" became "Sally", "Solly" and, eventually, "Sali". Using Dunedin as their base and travelling on horseback, the pair hawked their household wares over rural Otago, Canterbury and Westland. A riding accident left Sali with a limp which he minimised through having one shoe built up. Perhaps it was this experience which caused him to seek a less demanding occupation.
Sali decided to become an ice-cream seller in Christchurch and, about 1903, had a cart built and painted white and bright red. On the red there were decorative gold patterns. Having purchased a recipe, Sali sold his product from outside the Bank of New Zealand. Near the end of his career, he moved round the corner into Hereford Street. At first, Sali rented a dwelling in Brightlings Lane in the Avon Loop. A working-class blind street which has since been built over, it intersected with Oxford Terrace and lay between Willow and Hurley Streets.
On 15 December 1905, while staying at the Brightlings Lane property (probably in preparation for Sali's wedding), Sultan died of a stroke.
In a town where generations of European women married within their own racial group, 19-year-old domestic servant Florence Henrietta Johnstone dared to be different. On 5 January 1906, at the Registrar's Office, Christchurch, she wed Sali Mahomet. To make it appear as if there were but a few years between the spouses, Sali gave his age as 27 (he was about 40).
If there was gossip about the marriage, the four daughters of the union were of more enduring interest. As youngsters they had the soft attractive features common to Eurasian children. In adulthood their dark complexions, then rarely seen in Christchurch, marked them out as notable beauties. In naming his children, Sali showed familiarity with several languages and cultures. "Rahona" or "Rahanie", an Islamic word for the herb basil is also the name of a flower. "Rupee" refers to the currency of Imperial India. Although "Tulah" is Hindi for "weighing scale", Sali pronounced the word "Tilla" and told his daughter that she had been named after a place he knew: the mosque Tilla, in Samarkand, means "golden". Christchurch has often showed hostility to those who are different. It is pleasant, therefore, to note that at least one pupil at St Albans School envied Tulah Mahomet her "romantic" name. More prosaically, "Florence" was named after her mother.
Such was the success of the ice-cream business that, in 1907, Sali was able to purchase land at 69 Caledonian Road and erect a single storey dwelling. Built of kauri, the structure had a bay window, decorative woodwork in the hall and ornate rose patterns in the ceiling. Sali's house was, and remains, a desirable residence. At a time when electricity reached only as far as Bealey Avenue, Sali had a lead extended to a large wooden outhouse, the "dairy," where, with fastidious cleanliness, he made his ice-cream. At first a horse and cart and, later, a truck brought one hundred weight blocks of ice from the Canterbury Frozen Meat Company. Slabs were packed about the product in the "dairy" and Sali undertook the onerous task of breaking up ice with a mallet so that chips could be used to keep the product cool as it was being transported to the Square. A youthful neighbour caught the horse which pulled Sali's cart into town. Afterwards it was towed in by a Blue Star taxi.
Sali dispensed his wares between August of one year and the April that followed, commenting that, during the other months, "you can keep cool without an ice-cream". However, he was such a feature of the landscape that there developed a belief that his was a year-round business. On one occasion a man rang him to settle a bet - whether he was on his stand in June and July. Locals regarded him as part of the scenery when the weather was warm and, with poetic licence, described the "appearance of Mr Mahomet and his ice-cream… as the official beginning of summer". It might, more appropriately, have been called the first hint of spring.
Wholesale druggist H F Stevens made "Ice-cream Charlie's" pineapple, strawberry, raspberry and orange flavoured syrups and also his vanilla essence which came from beans imported by Sali and roasted at home in his coal range oven. Other ingredients included eggs, cornflour, milk and cream, the two latter being provided by the Tai Tapu Dairy Company. The ice-cream was made before dawn, at first in a hand-operated churn and, later, in an American import, a Westinghouse machine which could produce four separate batches at once.
Vanilla ice-cream was sold in tub-shaped cones. Essence-flavoured sundaes came in glass dishes with silver spoons (these were washed and re-used). There were also small and large take-home packs. At the end of a long day in town, many a small but well-behaved child was rewarded with one of the ice-cream seller's products. Sali's wares cost between one penny and one shilling.
Most locals smiled on the exotic intruders. On special occasions they would call with a billy or preserving jar to purchase ice-cream. At Christmas, St Albans people, orphanages and the lunatic asylum were treated to copious amounts of Sali's product.
On one occasion a neighbour's house caught fire. Sali and Florence gave up their large bed and installed therein the dazed wife and her two children.
Sometimes Sali suffered racial attack, being labelled a "Turk" during World War I. At other times he would try to manoeuvre his bulk out of his cart and give chase to youths who shouted "Ching Chong, Indian". The delinquents were too nimble for him.
Short, rotund and swarthy, with round face, black moustache, white coat and a tie, Sali was a cheery helpful individual who regularly loaned locks to the boys who cycled into the Square to attend the picture theatres which abounded in that locality. He usually worked alone but, in the late 1930s, employed an orphan lad who soon went off to and was killed during World War II. A sad ice-cream seller received the young man's personal possessions.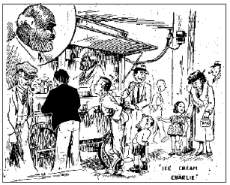 Cartoon of Sali Mahomet,
Press, 28 January 1939
In 1939 cartoonist Sid Scales drew the ice-cream seller's picture and, in a rare comment about his past, Sali said: "You know Sid, I told you I was not an Indian". At the same time a journalist described life at the cart:
"Ice-cream Charlie's stall… is a rendezvous for children and for boys, youths and young men, mainly on bicycles, who, while hurrying through the town on errands, can only spend a few minutes for refreshment. Parents passing the stall find it difficult to resist the persuasions of their children and often join them in having an ice-cream."
Although he did not practise his faith, neither did Sali repudiate it. He kept a copy of the Koran, avoided pork, bacon, sausages and alcohol but made no attempt to encourage his family to study Islam. His passion was trotting and, with "Trooper Dillon" and "Will o" the Wisp", he entered the ranks of owners. At his cart he made many friends, the Singhs, prosperous Auckland fur traders, among them. On one occasion he came to Caledonian Road with an entire hockey team, most members being Moslems; the bringing home of guests, without warning, was his major domestic vice.
In some ways Sali was a forward-thinking man. He cultivated the right people - trade unionist and politician Jock Mathison among them. His knowledge of Asian languages led the courts to seek him out as an interpreter when foreigners, often seamen, were brought before them. Keen to know about local and world events, he would get his daughters to read the paper to him; though he had an excellent command of spoken English, he could not read it. He never drove a car but was happy to ride in one should the opportunity arise. He enjoyed the cinema and picnics, dressed well and had a telephone when such an item was a luxury - his number was 3420. He was devoted to his wife who has been described as "a very nice woman". Loving and indulgent to his daughters, he also encouraged them to gain as much as possible from their education. They were to remember him with affection.
Yet "Ice-cream Charlie" was also locked into the past. He dealt in cash, had no dealings with banks and secreted his money in a chest in his "dairy". Perhaps this was the reason why friends of the younger Mahomets, who were cheerfully invited to the house, were told never to enter the building - though the prohibition ostensibly related to its being the hiding place of the ice-cream recipe. Sali made generous loans but left no paper trail showing where his money had gone. In 1942 he was struck down by a stroke, defrauded by a legal firm and the family found it necessary to sell their beloved home and move to a modest property at 55 Ward Street, Addington. In April 1943 Sali entered the Old Men's Home, Ashburton, and there, on 7 October, succumbed to a second stroke. He was buried, with Sultan, in the Linwood Cemetery. Over a considerable time Sali's wife and daughters managed to save something of the family fortunes. Florence died in 1969. A competitor, Vernon Wilkinson took to himself the title, "Ice-cream Charlie". The ice-cream cart is now at Ferrymead Historic Park.
Sources
Christchurch City Council electoral rolls, Aotearoa NewZealand Centre, Christchurch City Libraries
Christchurch telephone book, 1922, Aotearoa New Zealand Centre, Christchurch City Libraries
Christchurch star-sun, 9 October 1943
Discharged mortgages records, Archives New Zealand, Christchurch
Greenaway, Richard. Correspondence, 1999, with Abdullah Drury, Shona Mann, Lyn Syme and Muriel Soanes,: Correspondence files, Aotearoa New Zealand Centre, Christchurch City Libraries
Greenaway, Richard. Interviews, 1999, with Gwendoline Agassiz, Joan Barnes, Richard Cheyne, Leonard Dangerfield, Nan Elderton, Alison Gould, Daisy Greenaway, Bob Hollingum, Cyril Hughes, John Keech, Cynthia Mahomet, Evan Roberts, Mrs Rudkin, Rosemary Shatford, June Smith, Mrs. Strachan, Hugh G Taylor, Dale Wylie
"Ice-cream Charlie" album. Manuscript donated by Joan Barnes, Christchurch City Libraries" archives
Innes, Adela. "When the street was a village", manuscript, Christchurch City Libraries" archives
Land Records, Land Information New Zealand, Christchurch
Linwood Cemetery burial book. Microfilm, Aotearoa New Zealand Centre, Christchurch City Libraries
Mahomet, Sali and Florence Henrietta Johnstone. "Intention to marry" file, Archives New Zealand, Wellington
Mahomet, Sali and Florence Henrietta Johnstone. Marriage certificate, Births, Deaths and Marriages, Lower Hutt
Mahomet, Sali and Mahomet, Sultan. Death certificates, Births, Deaths and Marriages, Christchurch
Mahomet, Sultan: Inquest file, Archives New Zealand, Wellington
The Press, 18 December 1905, 28 January 1939, 8 October 1943
Tuarangi Home admission register: Archives New Zealand, Christchurch