Festival on fast-track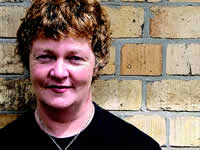 Jill Rawnsley is "running downhill" as she puts the finishing touches on the 2008 Auckland Writers and Readers Festival. The festival's director says although she is flat-out, this year's event has expanded to allow audiences exactly what she doesn't have - more time to savour the 62 events on offer.
"When [the festival] started it was frenetic; classically Auckland" she says. "The thinking was that nobody's going to take time off work to come to this event so we better pack in as much as we can. We deliberately extended the time, starting on the Wednesday afternoon. But there'll still be some difficult choices for people."
Impressive line-up
The choice of what to see is tricky because Rawnsley has secured an impressive array of writers for the festival - Pulitzer prize winner Junot Diaz is attending, as is Nobel prize winner and twice Man Booker prize winner J. M. Coetzee, as well as a boatload of creative superstars.
"There is top talent. Thomas Kohnstamm's book about travel writing in the Lonely Planet has caused a bit of a ruckus in the news – I think it was on the front page of the Herald. I was quite struck by that. Isn't it sad (that's what) gets onto the front page, but we can't get the fact that we've got a Nobel prize winner, a Booker prize winner and a Pulitzer prize winner coming to the festival this year because that's good news."
Diaz was a particular coup, named as Pulitzer Prize winner after the programme was put together.
"We didn't know Junot was going to win the Pulitzer ... he's so excited about coming. He knows quite a lot about New Zealand writing."
New Zealand is an appealing destination for the writers, Rawnsley says.
"It's intriguing to them and perhaps now they know a little bit more about it. The fact that we tie in with Sydney makes it more attractive for them. It's the time that it takes more than anything. It's two to three weeks out of their work – that matters to an author."
Recommended
Apart from the headline talent there are several visitors that Rawnsley recommends to festival goers.
"One of my favourites is Peter Temple– I love his writing and he's a very interesting man. He's never been here before. Heather O'Neill is another one I'm keen to see. Lullabies for Little Criminals is a great book. There's a piece at the end of the book which talks about how it relates to her life experience – that's quite unusual for a fiction writer to do that. She's got the most extraordinary capacity with very imaginative language.

"Simon Sebag-Montefiore is someone who everybody knows from his history work, but he's just started writing fiction – he's going to be a real character."
Ryan Knighton, author of comical memoir Cockeyed is another must-see, she says.
New Zealand writing front and centre
New Zealand fiction to the forefront is one of the main goals of the trust and there's something on offer for every taste.
"The trust deed states that it's main purpose is to give a high profile to New Zealand writers and so there's always been a directive that eighty percent of the talent on stage are local people. It's been really important and very rewarding thing to me."
Any fears that the quality of an annual festival would suffer, particularly form a New Zealand writing point of view, were quickly dispelled, Rawnsley says.
"There's probably another 50 people we could have put in this year. Our writers are fabulous, and they need opportunities to perform and appear and talk to their readers and get that affirmation back from people who read them. It's really exciting."
The range of genres that are being published are also expanding, she says, citing science, archaeology and biography as examples.
"I think New Zealanders have got to a point where they want to know about their history, their country and the people in it. The food session with Helen Leach for instance, she's investigating the origins of pavlova. Those books are really important."
One of the highlights of the festival is always the Books left on Buses session which ends proceedings, but Rawnsley says she would never abandon a book.
"I'm one of those people who will always pack a book no matter where I am or how much overweight on luggage I am – I can't leave it behind. That session has been brilliant. Last year Fiona Farrell completely blew everybody off the stage with her piece. Richard E. Grant was meant to talk after her and said 'how can I follow that?'. She was hilarious."
The Auckland Readers and Writers Festival ran from May 14 to 18 2008 at the Aotea Centre in Auckland.