Roger Hall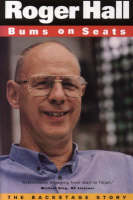 Roger Hall has been making audiences laugh for decades. His prolific career as New Zealand's most popular and successful playwright has created 27 stage plays, plus many television series and musical comedies.
Born in Essex in 1939, Hall emigrated to New Zealand in 1958. Since the 1970s, Hall has played a key role in helping to keep theatres afloat and local actors working. His phenomenal career spanning three decades is the subject of a 2006 documentary Point of View.
Hall was scheduled to present at the The Press Christchurch Writers Festival 2010. When the event was cancelled, Berinda Joy of Christchurch City Libraries contacted Hall for an interview instead. He kindly obliged.
We were all disappointed when The Press Christchurch Writers Festival was cancelled. What had you wanted to share at your session, 'FifteenYears to Be an Overnight Success?'

I still hope to be able to give the talk in Christchurch some time, so I don't want to say much. But a lot of it as the title suggests covers my early writing, numerous failures, and determination to keep going.
Travels
You've written in your book Bums on Seats about your world travels. What's your favourite city?

New York.

If you only had six hours to spend there. What do you do?

Walk up Fifth Avenue, past the Rockefeller Centre and the great stores, up Central Park, and then into the Metropolitan Museum of Art, and end up sitting on the Museum steps watching the world go by and the very professional buskers who perform outside.
Reading
What's on your nightstand?

I've never heard it called that before. Right now you've picked a good time for me to be wanky, it's Blue Latitudes (also titled Into the Blue) by Tony Horwitz who is boldly going where Captain Cook has gone before; Outside of a Dog; a bibliomemoir by Rick Gekoski ; No Fretful Sleeper, the biography of Bill Pearson by Paul Millar; and, something of a contrast, Me Cheeta a very funny pseudo memoir of the chimp that appeared in Tarzan movies. It is very cleverly written with vicious comments about people who deserve them, such as Rex Harrison.
This is an atypical selection as I'm nearly always reading fiction, and usually have at least one novel on the go. Lately they've been Graham Hurley's Joe Faraday series set in Portsmouth, UK. They are almost up there with Kate Wilkinson's Jackson Brodie and Ian Rankin's Rebus. But I do read a lot of fiction other than crime.
I often have poetry by the bed and as presumably this is partly an exercise in getting new titles in front of readers I'm including it. Every now and then I have big session with two superb poetry anthologies; Staying Alive and Being Alive edited by Neil Astley, published by Bloodaxe Books. Astley is a genius. A wonderful collection, illuminating introductory essays for each theme, several hundred poems in each volume. What a bargain and an absolute joy to plunge in, devour and some times spit out. I keep one of them in the car for those times when you've got a few minutes before having to get out and back into the world.

When you lift your head and look around, what do you see?

The posters that Electricity Corporation of New Zealand issued when I was that year's Katherine Mansfield Fellow in Menton; a water-colour of the view from the balcony of the apartment we had; an old print of Georgetown, given to me when I left Georgetown University after a semester as a Fulbright Fellow there; a great photo of the late Robert Lord; and a photocopy of the names of everyone who booked for the first night of Glide Time in August 1976.
The life of a writer
When did you know you wanted to be a writer?

From about 19 I wanted to write, but it was many years, at least fifteen, before I thought I could be a writer.

If you couldn't write plays what would you be doing?

Sulking.

For you, what is the easiest thing about writing?

Huh?

What's the most difficult?

Mel Brooks said it best after his wife Anne Bancroft complained how hard acting was. He held up a blank sheet of paper and said, 'THAT's hard.'

As a playwright, a substantial portion of what you write is dialogue. What are the joys and challenges of writing dialogue?

It takes a bit long to explain. But one of the joys is thinking of what I think is a really funny line.

What question do you get asked most about your writing?

"Where do you get your ideas from?"

What question would you like to never be asked again?

The one above.

You've made audiences laugh for decades. Are you funny at home? Do you make your family laugh?

I can be funny, but I'm often serious and look serious. The children were trained to laugh at my jokes.

You were an amateur actor in your early life. Would you ever want to act in any of your plays?

I would have liked to, especially John in Glide Time when it was first done, and I have played Reg in a read-through of Middle Age Spread. But it's better that I devote what dwindling energy I have to writing.

What book went into the building of you? What book wouldn't you be ';Roger Hall' without?
Inspiration, projects and libraries
How do you view and use libraries? Do libraries find their way into your dreams, writing, daily conversations? Are they travel destinations?

Libraries have always been a big part of my life, thanks to my parents' love of reading. In my childhood it seemed we went almost daily (an exaggeration, surely) but it indicates how important it was. I was brought up in the UK, and for a time we belonged to the Boots (the Chemists) library and also that run by WH Smiths, and even Harrods' library. But the public library was the mainstay, and remains so to this very day.
When I first came to NZ, it was the Wellington Central Library that played a big part in my life, and then later when I was student, occasionally studying in the spacious area upstairs. In Dunedin, we saw the passing of the old library which then transferred to a brand new building. Then to Ponsonby. Find Ponsonby Library, you can't, it's The Leys Institute, another gem with friendly staff; plus the fine Auckland Central Library.
In recent years it's been the Takapuna Library, part of the North Shore, and now, bliss, once the Super City comes about, I can use my card back at Auckland Central if I wish. I have been researching Russian immigrants to New Zealand for a play which I hope will be coming to The Court in 2011 (may as well get a plug in now). One Russian lady said 'Your libraries, so nice, so friendly!' Yup.
Travel destinations: earlier this year we visited the J P Morgan Library in NYC, Library of Congress in DC, and the Huntington Library in Pasadena.

You've lived in several cities in New Zealand from Dunedin to Auckland. Have you spent much time in Christchurch? What are your reflections on the Garden City? Has Christchurch influenced your writing?

No. None. No. This sounds rude, but place never plays much part in my writing.

What projects are you working on at the moment? What do you have on the backburner?

My sixth panto in six years, Robin Hood, for Circa Theatre, Wellington. This is in line with my desire to see New Zealand theatres do more for families. Many do programmes for children, but few do shows the whole family can enjoy. Pantos are ideal for this. Last year I was at a performance of Dick Whittington and at the interval a man came up to me and said, 'We heard you give a talk in Napier where you said 'panto was the ideal show to take grandchildren to…' So here we all are.'
More information about Roger Hall