An hour with Mo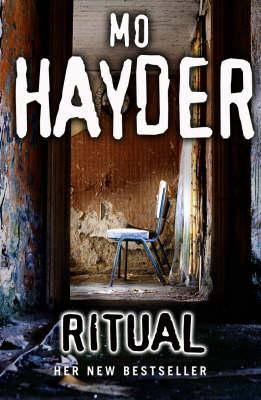 Mo Hayder only arrived in New Zealand on Tuesday afternoon and already she has hit the publicity trail, or maybe the publicity trail has hit her. A long-distance interview for a breakfast TV show proved more of a challenge when the wonky audio-feed forced her to lip-read, a challenge she nonetheless rose to with great aplomb. The publicity machine and the necessary promotion of her novels is still, she says, her least favourite part of the job of writer although she enjoys the travel. Friendly, funny and down-to-earth, she seems concerned with disappointing people or not knowing what to say in an interview and is about as far from a literary prima donna as can possibly be imagined.
This trip Mo has brought the whole family; her partner and six-year old daughter Lotte and they, like Mo, seemed remarkably bright-eyed and bushy tailed after the hideous long haul from the UK. Apart from appearing at the Auckland festival, Mo is popping up in Christchurch as part of the Press's Literary Liaisons before heading to Sydney for their Writers and Readers event. All this is pretty sedate she says compared to the frenetic pace of her promotional tours in Europe where she has been interviewed even between connecting flights. Her novels are popular in France and she says her detective character Caffery is a big hit with the gay German audience. She also gets a bit of mail from female fans clamouring for more Caffrey novels but Mo explains while the ladies like Jack Caffrey he isn't really a lady's man, although to disappoint the gay following he isn't a man's man either, Mo describes her character as "sexy and sexually driven" but with too much baggage to burden anyone.
Mo is promoting her new novel Ritual, the third title in the Jack Caffrey series, a series which she says is set to expand. She is planning a further four titles in this "Walking Man" series and is currently working on the second. She also anticipates some further stand alone titles. The Walking man is to be a recurring motif character, a vagabond with a murky past, he is set to be guide or guru for her troubled detective Caffrey. Mo based the Walking man on a local tramp she observed. Filthy and disheveled he nonetheless had a look of fierce determination, as if he had an intense need to keep pushing on to some destination. Mo spoke to him and his story was a sad one, he'd lost his wife and children in a house fire and was making for he said America and a fresh start but as Mo observed he was walking in circles. A great metaphor Mo and I agreed, tongue-in-cheek, for life.
I asked Mo about her thoughts on women and violence, in particular why we read crime. She believes that society doesn't allow women to be violent, that society is intent on preventing us from being angry. She recently watched Crimewatch, a UK show which enlists the help of the public to solve real crime and she was struck by how few women commit serious crime. She also noted that when women do transgress they are demonised by the media. She believes that on some level we read about crime to understand it, women feel intellectually that we are more likely to be the victims and seek to understand the male psyche, why-dunnits not who-dunnits. She believes women are particularly perplexed by sexual crime as sexually motivated killing is one market men really have cornered.
Regarding the phenomenal, almost overnight success of her first novel Birdman Mo says she wishes she could go back in time to really savour the moment. Now with greater knowledge of the book industry she realises just how amazing it was to hit the big time so early in the piece. Birdman was literally her first novel and apart from keeping diaries she'd done no creative writing. To remedy that she enrolled in a creative writing course at Bath Spa University and said she loved the experience. The camaraderie of other writers, the friendships she developed and getting a few more letters after her name were she says invaluable. She briefly taught at Bath Spa university on the creative writing course after her own graduation but has since given it away after realising it just wasn't her bag.
One of the down sides to success has been difficulty in finding time to read recreationally, she is a fan of the crime genre and cites Peter Dexter as a favourite author. She is also currently reading Peter Temple's latest novel in anticipation of appearing with him on the festival panel "Crime and its fascinations". She doesn't do romance at all but personally knows Sophie Kinsella and enjoys her novels. We talked a bit about the dangers inherent in being a professional writer and how knowledge of the tricks of the trade can jade your eye and kill the suspension of disbelief. Mo said she wishes she'd been more aware of the risk of switching off reading before she became a professional writer, but still feels that the need to write was so strong in her and felt that if she didn't write life in one way would be over.
Search the library catalogue for books by Mo Hayder
Joyce Fraser interviewed Mo Hayder for Christchurch City Libraries at the Auckland Writers and Readers Festival, May 2008. Mo Hayder was involved in three festival sessions, Crime and its fascinations, Read to me, and an individual hour long audience.