Kiwi violinist's Gypsy life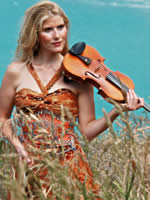 Fiona Pears is constantly on the go — in April 2009 she spoke to Richard Liddicoat about writing, recording and her love of true crime stories.
Orchestral album dream come true
Recorded with The City of Prague Philharmonic Orchestra, Fiona Pears's Fire & light is a childhood dream come true, she says.
It wasn't a big orchestra. But we had a good-sized string section and the bits of brass and woodwind and percussion that I needed… the main thing was to get that really lush, beautiful sound… and the power.
Free Audio
Mini-documentaries:
Willow Tree

3:12min, 3Mb

Get Flash to see this player.

Fiona Pears talks about recording with a full orchestra for the first time. The backing track is Willow Tree.

Harbour Light Magic

3:05min, 2.8Mb

Get Flash to see this player.

Harbour Light Magic was inspired by a venue Pears has played at since she was 18. She shares the process of writing the piece, tells what the Harbour Light means to her, and shares some thoughts on critics.
More information
Immersing the audience in sound so that they can imagine themselves in a different setting is important in her work.
I always tell the audience enough about each tune so they can put themselves in that position.

Whisper waltz

has a circus sound to it. I put a trombone solo in. I tell the audience to imagine they're in a circus tent. I want to take the audience there. I like the goal of making the violin the voice, but with the stories and the pictures being left up to the individual to create.
Music for films
Many of the tracks on Fire & light would be at home in a film score and Pears, a fan of John Williams, says she would love to write for the screen.
I would love to… but I'd like to write film music in the old fashioned sense where I'm working on it myself with a script. I don't think I'd ever do any kind of blockbusters – you'd have too many set rules. I think I'd have to see a story and then get a melody. To be able to actually write with freedom, so that the music can go with the whole – as an artist that would be amazing. If I never get the chance to do it for a movie or a TV series, then just to get a book that I love and just create it from that… or a true life story… It could be very interesting.
While there are no concrete plans for film work yet, Pears is working in Japan and the United States on a series of concerts to the end of the year – something which involves her remembering to play in "seven flats and five sharps".
I'm working with a choir called Libera; they are signed to EMI. The choirmaster, Robert Prizeman, does a lot of work for the BBC, and he writes a percentage of their material. They have a clarinettist and a piano and myself who are playing along with a backing track and the children singing live. I get to travel and play — we're going to LA and playing in the Crystal Cathedral. That's going to be really exciting. I've done quite a bit of touring in Japan… bring Japan on!
In May, Pears will take on some co-producing and arranging work, and is hoping to spend some time writing. June includes a concert in St James's Church, Piccadilly, and a large outdoor concert in Wales at Aberglasney Gardens — an outdoor venue where Pears last played as support for Hayley Westenra. She'll be back in New Zealand to get married in late December, but that won't stop her playing at the Nelson Jazz Festival at the beginning of January.
We're getting married on the twenty-ninth of December, so we can have the 30th off, but the 31st we're back into it. The honeymoon comes later.
A lucky life
Touring and performing is now a regular part of her gypsy musician lifestyle, but Pears doesn't take anything for granted.
You never know as a musician when the day might come where you don't have any gigs for a month or two months. I don't think it matters if you've got a record company or not, or huge management or not. The industry's always going to be fickle, it always has been, and it gets harder as time goes on. I've been lucky with my home town. When I first filled the cathedral I couldn't believe it — I thought somebody had paid people to come. We were expecting about three hundred people and in the end they had to turn away more than a hundred. It gave me the confidence to do it again, but I had to wait two years. The concert that I've just done at the cathedral — it was full again.
Currently Pears is writing tangos, and is planning a show with dancers at the Theatre Royal. Gypsy and Irish dancers would mix it up for the audience, she says.
I want everything to work together so it's a feeling of spirit and extravaganza. More of a spectacle, and maybe something that hasn't been done here before.
Fiona's playlist
When our conversation turns to what music she is listening to at the moment, the answers come thick and fast:
Red violin. I love Eva Cassidy, I love The Carpenters. Pictures at an exhibition is one that gets listened to every month. I love The Beatles, The Beach Boys. Stevie Wonder — some of his tunes just blow me away. The Jackson 5 — it goes on and on… and I'm just thinking of ones I've listened to recently. I love David Bowie; Radiohead. I love melodies.
And jazz?
I don't listen to a lot of jazz unless it's the old jazz. I've never got into free jazz — I can't do it. It does have a tendency to make me feel like I've got the TV on in one room, the radio on in another and there's a big screen movie playing right in front of me. So I veer away from it — but I appreciate that there's a lot of people who really enjoy it.
Using the library
Pears is a "big time" library user.
Lyttelton was the last library I was in, but Linwood was the last library I got things out of. It's good for wedding magazines – it's very handy for that at the moment. I do read a lot and my reading varies. I love thrillers, I love true crime. Years ago I read every single Jack the Ripper book. It freaks out some of my friends, but for me it's the idea that somebody that has essentially the same human make up as you and me can do those things. Do not be afraid – it is purely an interest!
I love libraries – man, I would be broke without a library. I get out lots of CDs. What I love about using libraries is that I can get out CDs and I can pay that dollar and it doesn't matter if I don't like it. I know that in some way I've supported either a musician or a library, but often, out of 10 CDs there'll be two that I want to go out and buy.
Interview conducted April 2009