Keith Petch, guitarist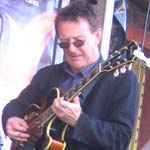 Over the last 25 years, everybody who is anybody in the Christchurch jazz scene has probably played with the Gypsy jazz guitarist, Keith Petch. A member of many bands over the years, he currently plays around town with his long-standing group Swing 42.
How would you describe your style of music?

It's a bit of a mix. Gypsy jazz is my main interest but Latin, straight ahead jazz and various world influences feature in there too.

What does NZ music month mean to you?

It means I'm going to get to hear lots of old favourites and probably not enough non-mainstream stuff.

Who's your favourite NZ group?

The Mutton Birds. Don has some good stuff and it hasn't been flogged to death on the radio. Growing up in Yorkshire means you don't get a good NZ influence in your formative music years!

Tell us a bit about your background and musical influences?

I actually started off being a chef and that's what brought me to NZ. But music has always been big. I'm self taught — from the pre-jazz school era. The only way to learn jazz in NZ back then was at a week-long workshop in Wellington run by an American called Jamey Aebersold. When I was there, the guitarist John Scofield, who has played with all the jazz greats in America, was a guest tutor. That was pretty much it.
I started playing gigs with Ian Edwards, Stu Buchanan and Malcolm McNeill. There have been loads more since then. Early on, I was able to ditch the chefing when I found out I could get enough from music. There have been several long-term residencies at notable venues like Noahs and the Blue Note. I have also been teaching guitar at Christ's College for about 20 years now. I try and teach them music and to teach themselves, otherwise you end up with a whole lot of robot players.

And the gypsy jazz?

In France they have a concert outside Paris every year in the last weekend of June which is Django Reinhardt's birthday. He died in 1953 when he was 43. This year [2010] is his 100th birthday. France is the home of that style of music but there are many big cities who have festivals around the gypsy jazz style of music. I go to Spain most years and perform more there with several local musicians.
More New Zealand music resources
Our online resources:
Our Internet Gateway recommends:
Browse the resources in our libraries:
April 2010