Strategy game twenty years old
Mike McManaway used to run a puzzle shop in Christchurch - The Puzzled Dragon. He invented a strategy game called Tantrix, which turns twenty in 2008. The game is now sold in over 30 countries.
Although not born in Christchurch, McManaway had a strong connection to Canterbury - first as a pupil at Medbury School and Christ's College, and later as a geology student at Canterbury University. In this interview he speaks about the invention of the game, its commercial development and how he finally won the world title for playing the game after 10 years of trying.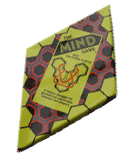 Originally called The Mind Game, a full set of Tantrix consists of 56 hexagonal tiles links of red, green, blue and yellow. Each tile is unique, and the idea of the game is to create the longest track or loop in your colour. The game can be played by up to four people. The game is now sold worldwide.
See also
Trax - an article with the inventor of the NZ tile game that pre-dates Tantrix.
How and when was Tantrix invented?
"Tantrix Games began as a small chain of specialist game shops. Trax was one of the most popular games in the shops and inspired the invention of Tantrix. During March 1988, [I was] on a camping holiday in southern Chile. It should have been a climbing holiday but I had broken various limbs just a few days before leaving NZ and hiking around the beautiful Patagonian mountains was all I was up for. One rainy day while stuck in a tent waiting to cross a flooded river I started playing with hexagons..."
How or where did the name come from?
"It was suggested at a dinner party a few years later (basically from "tangled tracks"). The original name "Mind Game" turned out not to be original enough!"
How did you test the game and get it into commercial development?
"In the shopsI already owned (Mind Games in Wellington and the Puzzled Dragon in Christchurch), and crucially in Puzzling World in Wanaka."
Was it hard work selling it - how many pairs of shoes did you wear out?
"It was just a hobby at first and we did not push the game too hard. The hard work came years later after I had sold the shops (including one in Dunedin) and decided to work full time on marketing Tantrix. We joined the "Christchurch based Dunkleys Great NZ Craft Show" and travelled all around New Zealand promoting it."
Inventing the game was one thing, but in 2007 you won the World Championships. How long had you been competing and how did it feel to win?
"I have been trying every year since they began online (in 1998) and it felt dammed good! However I only came seventh in the recently completed NZ Open so it is going to be hard work to defend my world title this year."
Did you ever think the game would have such longevity?
"Certainly not in the first few years. I designed it as an easy-to-play "family game" with just a little too much luck to be interesting to serious gamers. However it turns out there are clever ways to "control" the luck factor."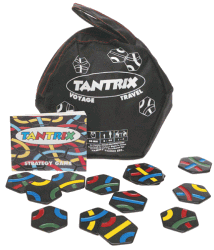 You used to run a games shop in central Christchurch. Tell us about the shop and the business and what you remember about those times.
"I went to school in Christchurch (Medbury and Christ's College) and moved back there after a few years working for IBM's marketing division in Wellington. We lived in Heathcote Valley and opened a shop in the Triangle Centre which was fronted by an enormous paper mache dragon (hence the name of the shop). After a few years we shifted to Colombo Street and changed the name to Mind Games. We sold mainly upmarket backgammon and chess sets, puzzles of all kinds and a lot of role playing games which had a cult following in those days.

"It was while I was a uni student and living in a run-down Cashel Street flat that I was first introduced to backgammon by my American flatmate. Within a few years I had become NZ backgammon champion, and it was that which lead me to open a small chain of game shops, and which then lead indirectly to Tantrix being invented.
Do you still develop games?
"Yes, but mainly on new versions of Tantrix - it has been fairly continuously evolving for 20 years. I don't think it will ever stop! Latest is our "sudoku" style version which has a playing tray and 13 tiles."
You are an avid caver - what's the attraction of being underground?
"Good question: hard to say except that it is like a mixture of hiking and rock climbing rolled into one. If your torch is good that is! :-) The mountains around Nelson have most of NZ's deepest caves, including one of the most amazing two-day through trips in the world (Nettlebed - 900m deep and 28 km of passages)."
More information