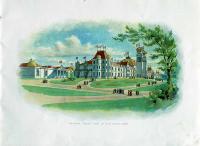 The New Zealand International Exhibition was held in Christchurch from 1 November 1906 to 15 April 1907.
It was the brainchild of Richard Seddon, Premier of New Zealand from 1893 until his death on 10 June 1906, just a few months before the Exhibition opened.
Despite the substantial financial loss incurred by the Exhibition, it was deemed to be a success. With nearly 2 million visitors, attendance exceeded expectations - New Zealand's total population at the time was less than 1 million.

How to use this resource
This resource combines short articles with photographs, programmes, posters and memorabilia from the 1906 Exhibition. Under each topic you will find links to books and other resources held by Christchurch City Libraries, online photographs and memorabilia such as the official programmes, posters etc as well as links to other web sites and resources not managed by Christchurch City Libraries.
Navigate by using the links on the right hand side. Clicking on an image will take you to a larger image or to the entry page for that resource in the case of pamphlets or booklets.
Related pages