Notes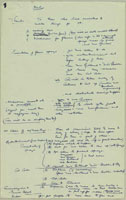 Handwritten notes outlining order of meeting and celebration.
A group of items from the 1959 annual meeting and anniversary celebrations. Includes guest lists, notes, agenda, photographs.
From a collection of material relating to the early years and development of Linwood Public Library, a subscription library founded in 1909 by the Linwood Citizens Association.
Archive 107, Series 4/ 11
Published, [1959]
View images of Notes
View complete Notes [PDF 571 Kb]
Digitised material from Series 4/11
View catalogue record for Archive 107 - Linwood Public Library
Related material
Linwood Public Library Archive - digitised material
Other material digitised from the Archive 107 collection
Linwood Public Library: The Voluntary Years, 1909-1993
History of the Linwood Public Library
This material has been digitised from the Archives and Manuscripts collection of Christchurch City Libraries.