Canterbury Society of Arts Catalogues, 1881 - 1910.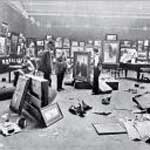 The Canterbury Society of Arts was founded in 1880 and held its first annual exhibition in 1881. No catalogues of the first (1881) or the third (1883) annual exhibition appear to have survived and reconstructions based on contemporary newspaper coverage are presented here instead.
Only photocopies of the 7th (1887) and 8th (1888) exhibition catalogues have been located.
The Robert & Barbara Stewart Library and Archives would welcome information regarding any of these missing catalogues.
Telephone: (+64 3) 941 7394
Email: gallerylibrary@ccc.govt.nz
The assistance and co-operation of the following libraries in providing catalogues is gratefully acknowledged.
Note: In June 1996 the Society changed its name to Centre of Contemporary Art.
Related pages