Wardens' handbook / issued by Civil Defence Branch, Department of National Service.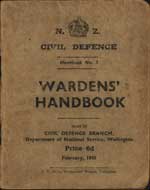 One in a series of handbooks for Emergency Precautions Scheme (E.P.S.) Wardens supplying up-to-date advice on Civil Defence procedures.
Contents
Functions and Organization of the Wardens' Unit
Warden's Post and Wardens' Equipment
Some Things Wardens must know
Maintaining Morale
Reporting Incidents
Bombs and their Effects
Safety Precautions
Emergency First Aid
War Gases
Lighting Restrictions
General Advice to the Public
Some Useful Hints
View Wardens' handbook [5.9 Mb]
Publisher: Wellington [N.Z.] : Govt. Printer, 1943.
Bagnall, N2847
This material has been digitised from the collection of Christchurch City Libraries.
Copyright and other restrictions
This material has been provided for private study purposes (such as school projects, family and local history research) and any published reproduction (print or electronic) may infringe copyright law. Please contact Christchurch City Libraries if you have any questions relating to the use of this material. It is the responsibility of the user to obtain clearance from the copyright holder.