Winning through from war to peace : New Zealand, 1919 edited by L.S. Fanning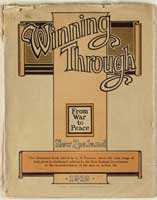 Cover subtitle: this illustrated book, edited by L. S. Fanning, shows the wide range of help given to discharged soldiers by the New Zealand Government in the re-establishment of the men in civilian life.
Publisher: Wellington : Govt. Print., 1919.
View complete Winning through from War to Peace [PDF 10 Mb]
Contents
View Pages 1 to 6 [PDF 1.9 Mb]
Help for Body and Mind
Hospitals and Homes
View Pages 6 to 10 [PDF 1.8 Mb]
Curative and Vocational Work
Repatriation Policy
Dominion Organization
View Pages 10 to 18 [PDF 3 Mb]
General Employment
Vocational Training
Subsidized Workers
View Pages 18 to 24 [PDF 2.3 Mb]
Loans for Business
Training for Farm Life
View Pages 24 to 31 [PDF 2.3 Mb]
Men on the Land
Homes for Soldiers
Repatriation Summary
This material has been digitised from the collection of Christchurch City Libraries.