New Zealand Music Month — May 2013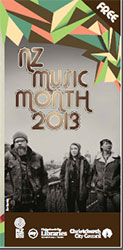 Download brochure [1.6MB]
Christchurch City Libraries celebrates NZ Music Month in May with free music events at our libraries.

We are proud to partner with RDU 98.5FM for New Zealand Music Month 2013. RDU plays more New Zealand music than any other radio station in Canterbury and has been supporting and showcasing the best Canterbury musicians since 1976. Tune into RDU on 98.5FM for the best of New Zealand music, not just in May but everyday.
We are also offering a 30% discount on CDs in May.
Launch event
Wednesday 1 May 2013 from 7pm at Central Library Tuam, 121 Tuam Street.
The Eastern
Luckless
Katie Thompson
The Aranui event
Wednesday 22 May 3:30 to 5:30pm at Aranui Library.
Merchants of Flow
Imprint
Music at Christchurch City Libraries
We have great music resources — CDs, tapes, LPs and DVDs as well as thousands of music scores, music magazines, and online music in the Source.
Explore our page about New Zealand music including:
About New Zealand Music Month
NZ Music Month was first celebrated in 2001. That May, only 6 per cent of album sales for the month were by New Zealand acts. Aiming to boost homegrown music, the initiative gave the media a chance to showcase local talent.
After five years of NZ Music Month, homegrown acts made up 29 per cent of albums sold, and there was similar increase in radio airplay. In the last couple of years, the month has started to become a truly national celebration, with the public encouraged to show their support through attending events, buying music and wearing the T-shirt.
NZ Music Month is a partnership between the NZ Music Commission and a number of other organisations including songwriters' association APRA, Independent Music NZ, NZ On Air, the Radio Broadcasters Association and the Recording Industry Association of NZ.
Previous years
See what we did in 2013, 2012, 2011, 2010, 2009, 2008, 2007, 2006, 2005, and 2004.