150 Anniversary Tukutuku Panels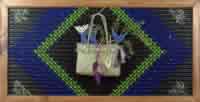 Thirty three Christchurch City Libraries staff teams - from managers to shelvers - created their own unique contemporary tukutuku panels with help from customers during Matariki 2009. They commemorate the 150th anniversary of public library service in Christchurch and will adorn the walls of your libraries for the next 150 years.
Library teams took up the challenge to create tukutuku out of contemporary materials, using plastic, wool, ribbons, beading, computer parts and cables to represent their work, community and environment. It was a team-building exercise during which the skills of communication, co-operation and co-ordination went hand in hand with design and creative techniques such as weaving, embroidering, braiding, gluing, and painting.
Related pages
Media Releases