Upper Riccarton Library Planning Documents
Newsletter
Media Releases
- architects' drawings and floorplans
Consultation
Ideas for the Upper Riccarton Library suggested by our customers, staff and consulted groups.
Public meetings
Thursday 1 April 2004
A public meeting will be held to present the concept design of the new joint-use community and school library, due to open at the end of 2005. The architects will present the concept design which has been influenced by the feedback given at the public meeting held in September 2003.
7.00 - 8.30pm, The Hall, Riccarton High School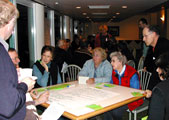 Monday 15 September 2003
Background Documents